So as a Classic Modern, I'm always looking for a good sale. To do this, I've signed up to receive email promos from some stores, but for the most part I just follow my favorite places on social media so I can easily hear about sales while I'm already scrolling through my newsfeed (Lazy? Nah. Efficient? YES!). Usually I try to look only when I have a piece in mind that I want to purchase, but I have one weakness: ASU gear. Seriously, the amount of ASU clothing I own is a bit ridiculous. But then again, can you ever really have too much Sun Devil Spirit? (Psst, the answer is no.)
All of this insight into my shopping plights brings me to what I came across on my Facebook feed today: the Sun Devil Bookstore's summer clearance sale. Now I love the bookstore's collection of women's ASU clothing because:
1) they have a lot of different styles to match the look I'm going for and
2) they have some REALLY cute stuff. Whether you're spending the summer in AZ and looking for a tank top to wear out on a hot day or you're back in your home state and just want to rep your school gear (did I mention they have great online sales too?), I highly recommend checking out the Sun Devil Bookstore's collections.
After checking out the website today, I put together a few of my favorites below. But check out the store because there are tons of other styles and like I said, SUMMER CLEARANCE SALE ;)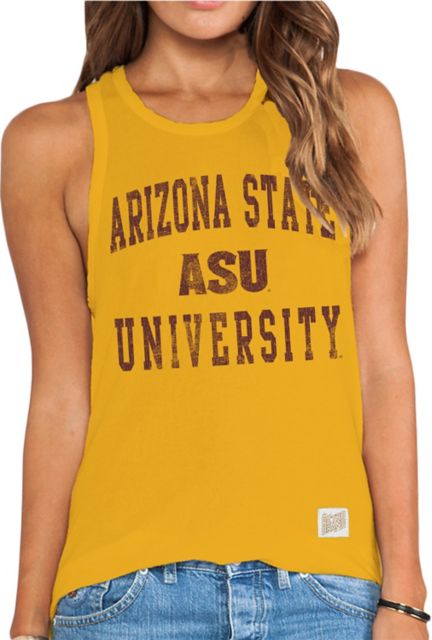 Original Retro Brand® Arizona State University Sun Devils Women's Muscle Tank Top | $28.00
This retro shirt looks like the perfect mix between cute and comfy- plus it's gold for game day!!
MV Sport® Arizona State University Women's Tank Top | $9.95
This new tank top is only 9.95 and comes in 3 colors- gray, white, and maroon. Sounds like a deal to me!
Original Retro Brand® Arizona State University Women's Tri-Blend Scoop Neck T-Shirt | $24.00
Can you tell I'm a fan of the retro brand? This one comes in maroon or old gold, and has my favorite guy on there- Sparky!
League Collegiate Wear® Arizona State University Women's Ra Ra Long Sleeve T-Shirt | $32.99*
I bought one of these shirts during the Shop-Off and haven't regretted it one bit! It is so comfy to wear around the house/dorm and once it gets cooler, I plan to wear it with my favorite pair of skinny jeans! *Currently on clearance!
Champion® Arizona State University Sun Devils T-Shirt | $24.00
And last but not least, a fun twist on the traditional t-shirt. This one has a small Sparky on the front left and this cute design on the back. Quick and easy to throw on with a pair of shorts on your way out of the house!
Alright ladies, good luck on finding those summer deals and, as always,
PS: If you're as much of a fan of ASU gear as I am, or just love some good deals, I highly recommend liking the Sun Devil Bookstore's Facebook page. That way you'll be among the first to know when they've got near gear or awesome promos!

https://www.facebook.com/sundevilbookstores?fref=ts